Seven artists were asked to speak for 7 minutes on this topic – it was a great evening!  This was my 7 minutes.
I'd like to share with you some of the realities of painting on location out in nature – en plein air for you poshies…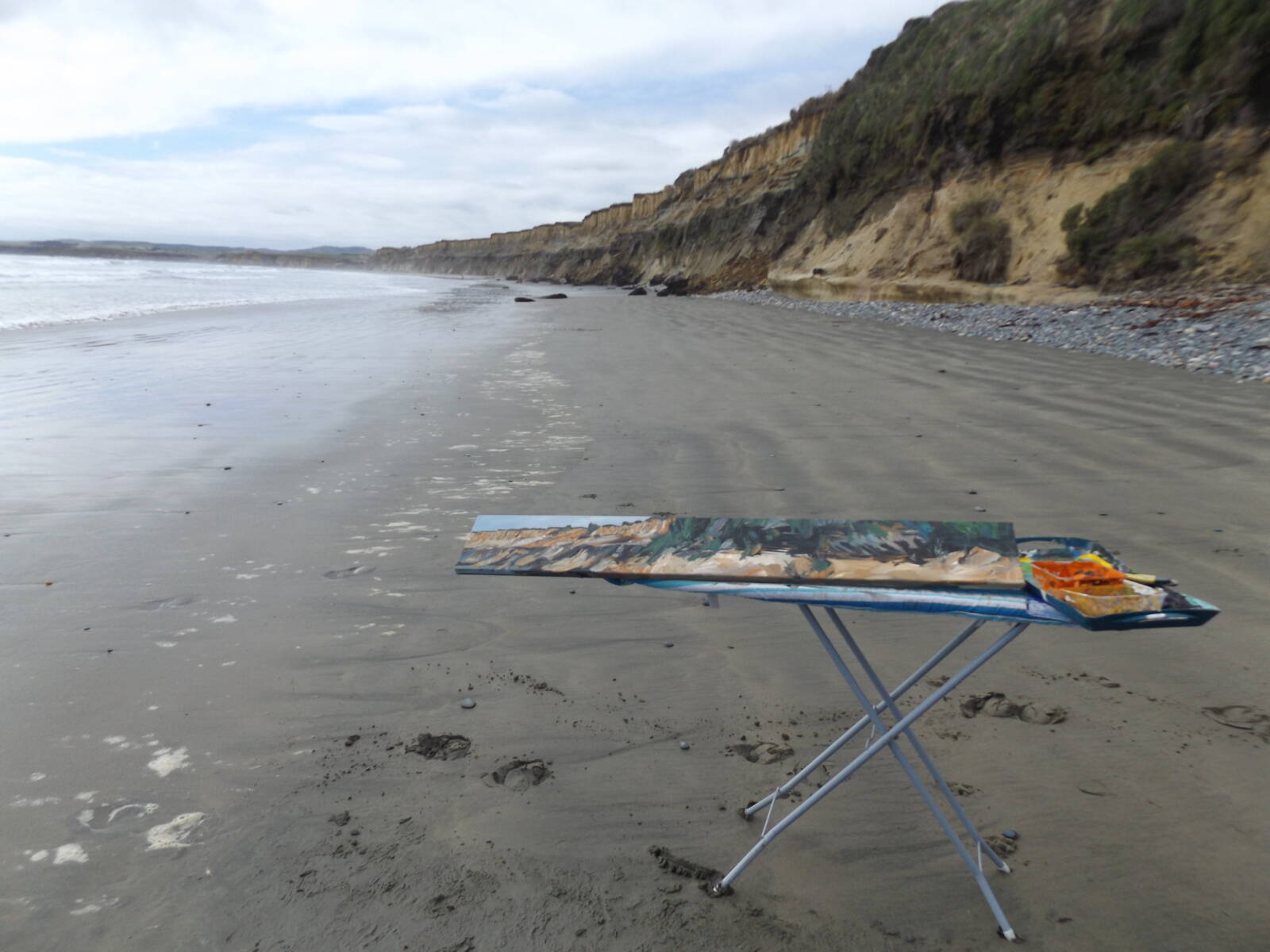 One of the shapes I paint is the long skinny which leads me to one of my favourite tools of the trade – an idea borrowed from my dear friend Pamela Brown.
The ironing board – it  doesn't blow away, it's sturdy and resilient – qualities necessary for painting in nature
If I'm painting in another part of the country I can just go to an op shop and buy another
It certainly attracts comments …overheard at Karitane a child asking her parents ' What's that lady doing ironing on the beach?'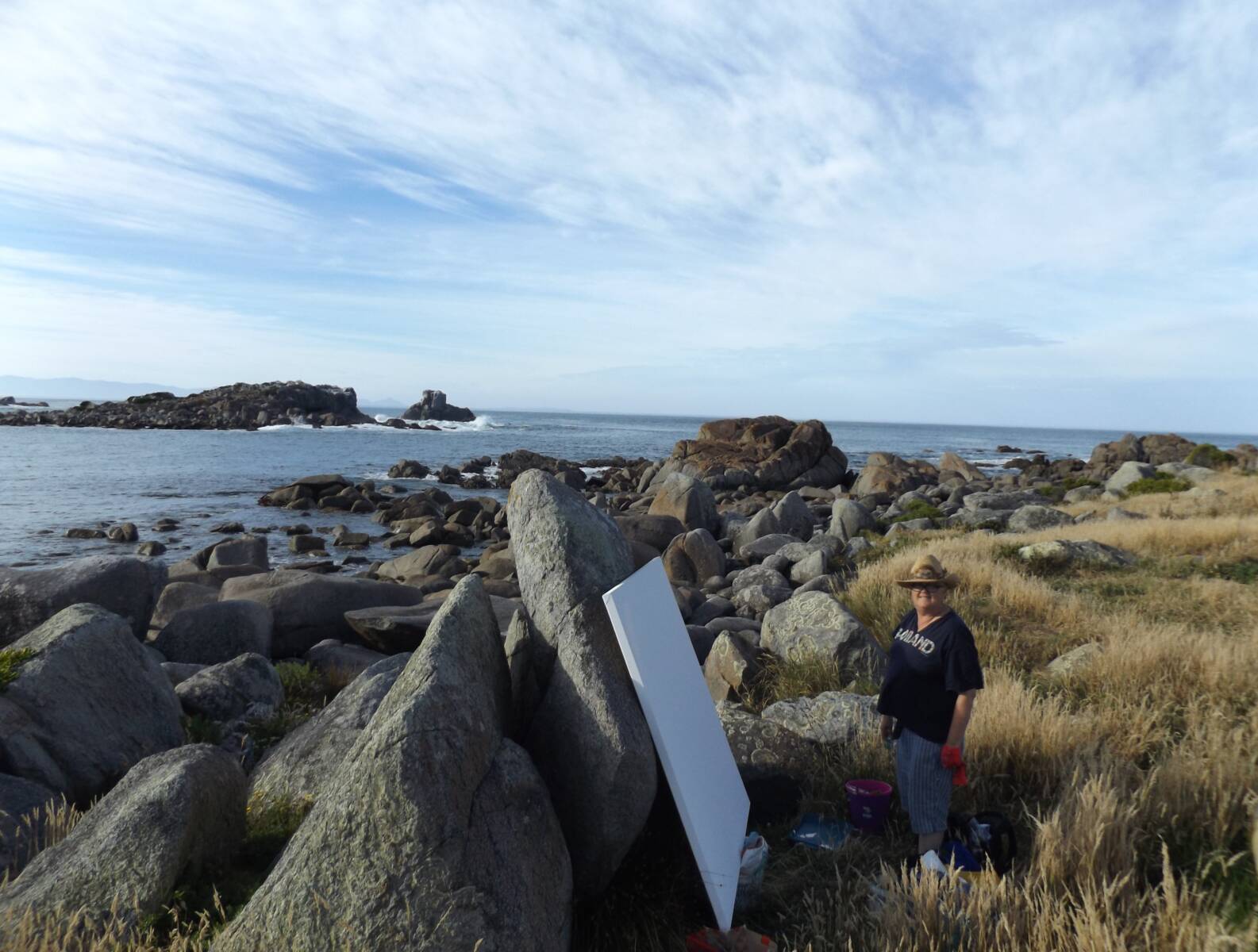 I try to anticipate the weather…..this canvas is tied to the rock.  When I am painting in one spot all day people come up and comment….. Typically I am asked one of these 3 questions:
Do you do this for a hobby? (they don't think much of your work)

Are you a student? (well the work isn't too bad but you are obviously still learning)

Do you exhibit or sell your paintings? (think your work is pretty good)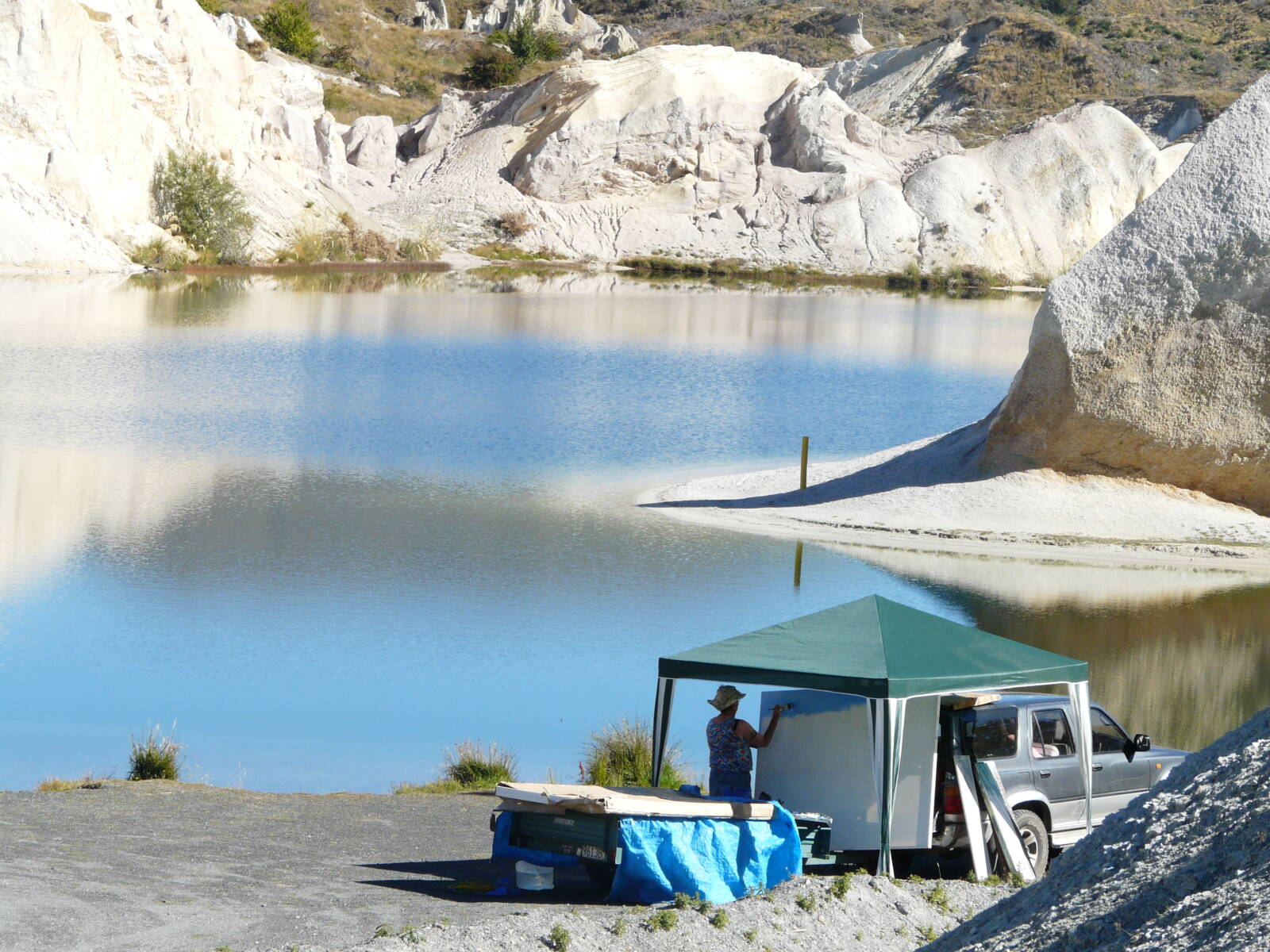 I am at the Blue Lake in St Bathans, Central Otago.  Setting up to paint takes time and the hot day demanded the awning.  Ominously soon after set up I was asked by a couple of people is this where the wedding is?  I assured them it was not here and began painting – the reflections were perfect.   Boy racers on jetskis arrived – reflections were gone, peace was destroyed by the noisy racket and mutterings of sand in petrol tanks were heard.  Then I was asked to move as there WAS a wedding here at 2pm!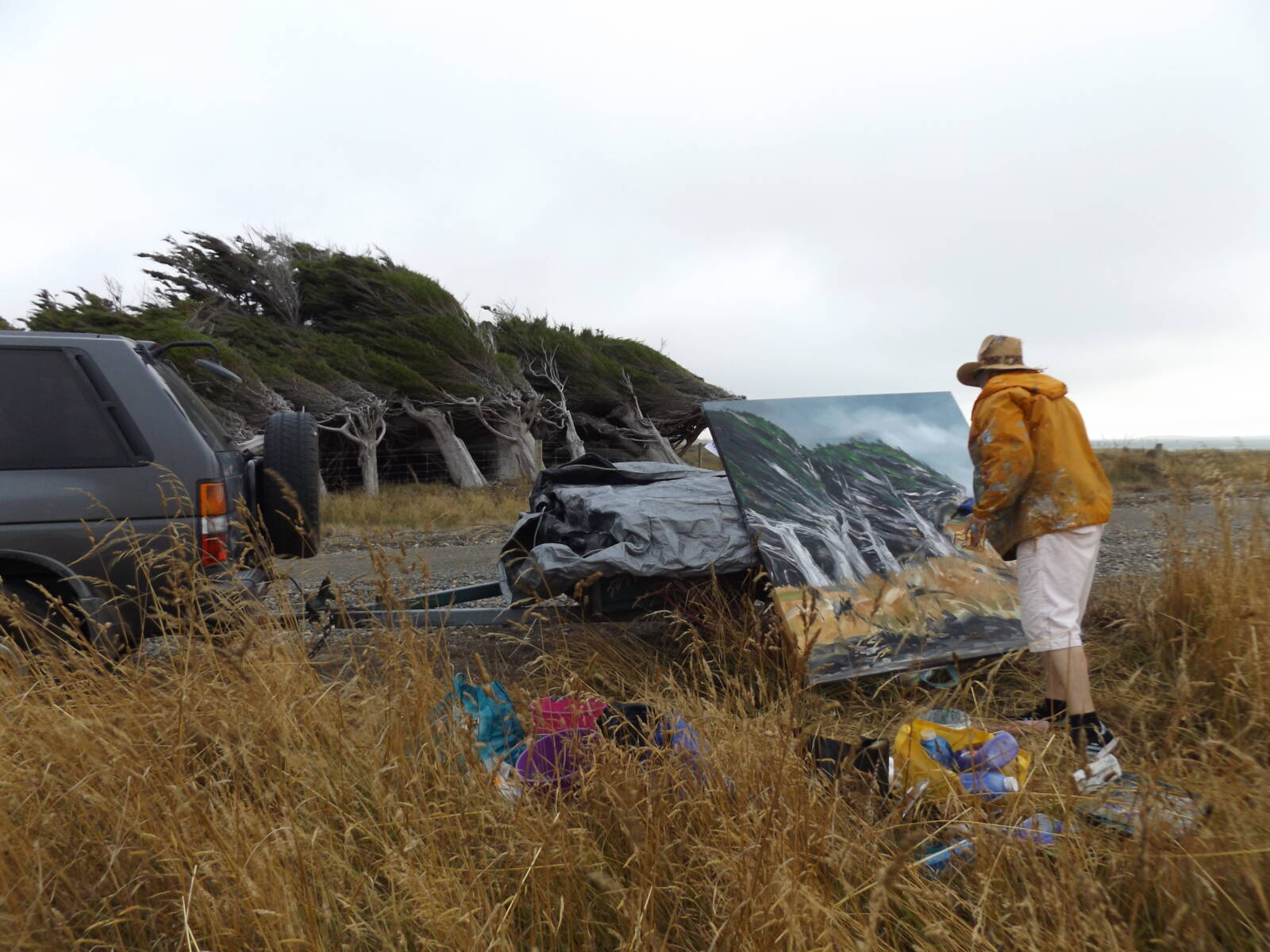 Wind is an ever present reality and I have learned to just go with it and not fight it.  This is at Orepuki in Southland and as I paint I wonder who planted these trees and do they have a protection order?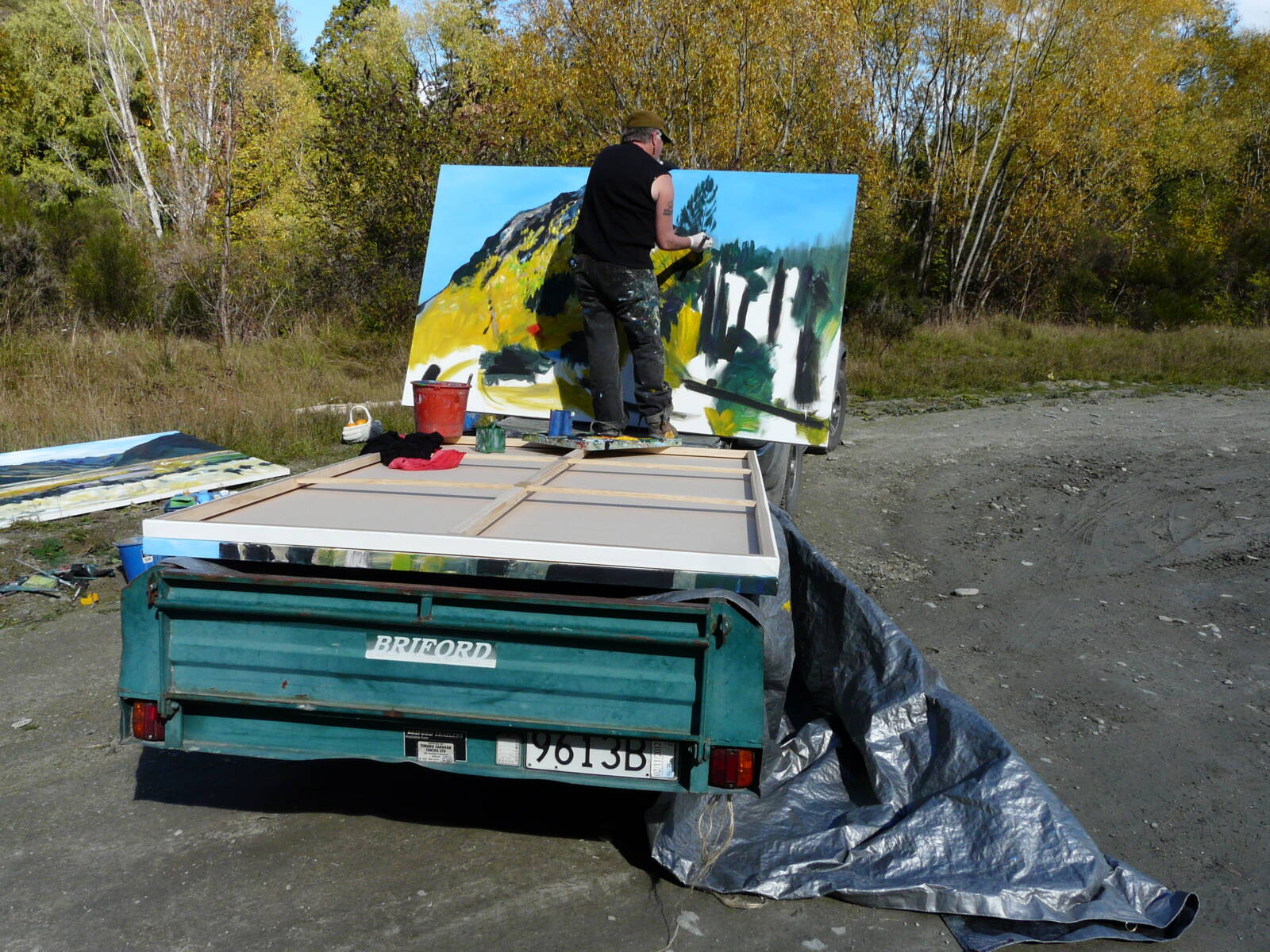 I often paint down forestry tracks where there may be shooters/ hunterkillers about and my brother advised me to wear blue as it is a colour unusual in the bush.  I also have the national programme blaring on my car radio!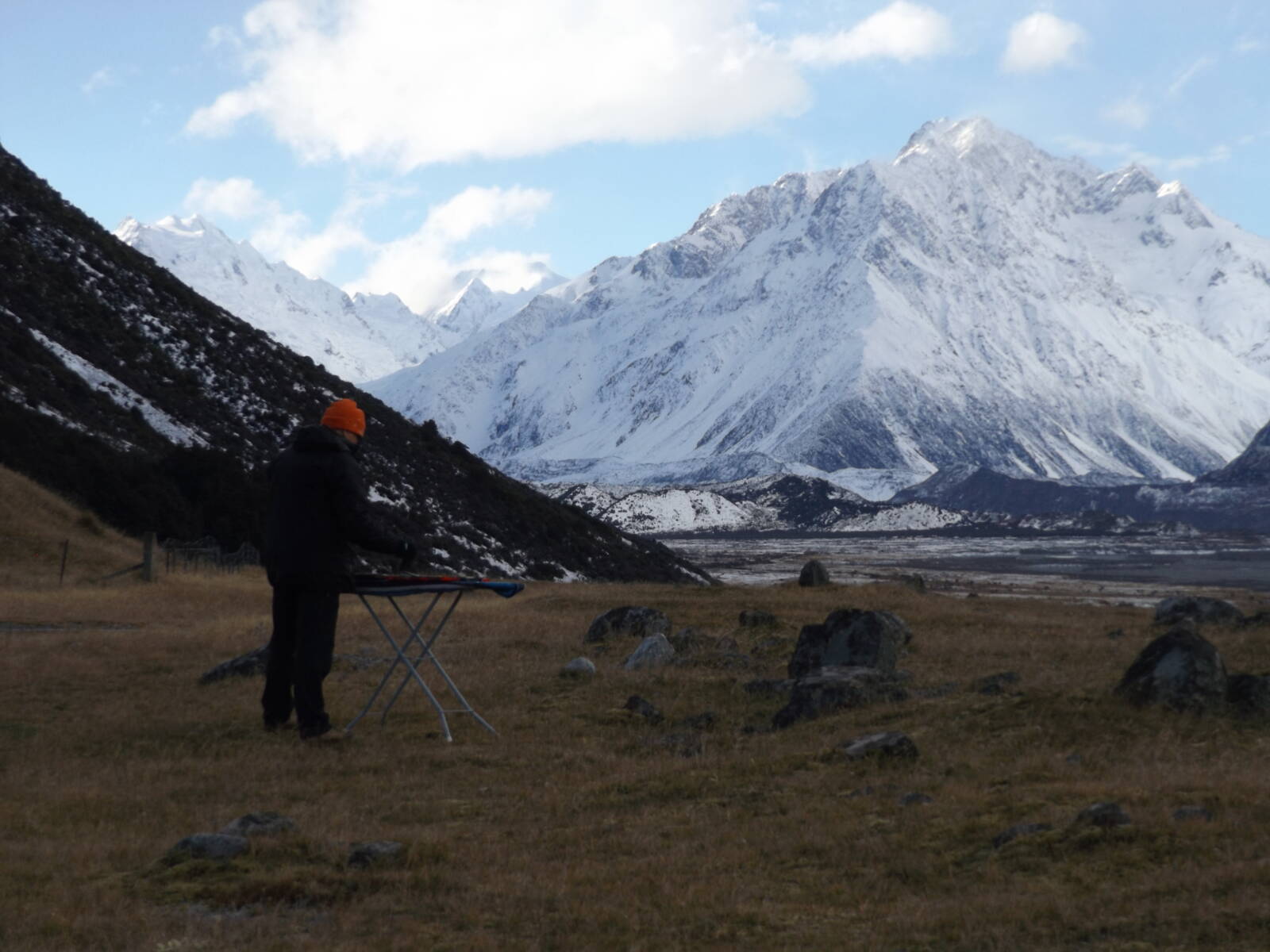 Another weather hazard is painting in the freezing cold.  My advice is to stand on a mat, wear good shoes, wear latex gloves inside your wool ones so your hands don't get wet.  Work fast and jump in the car with the heater running frozen painting in hand, to thaw out both.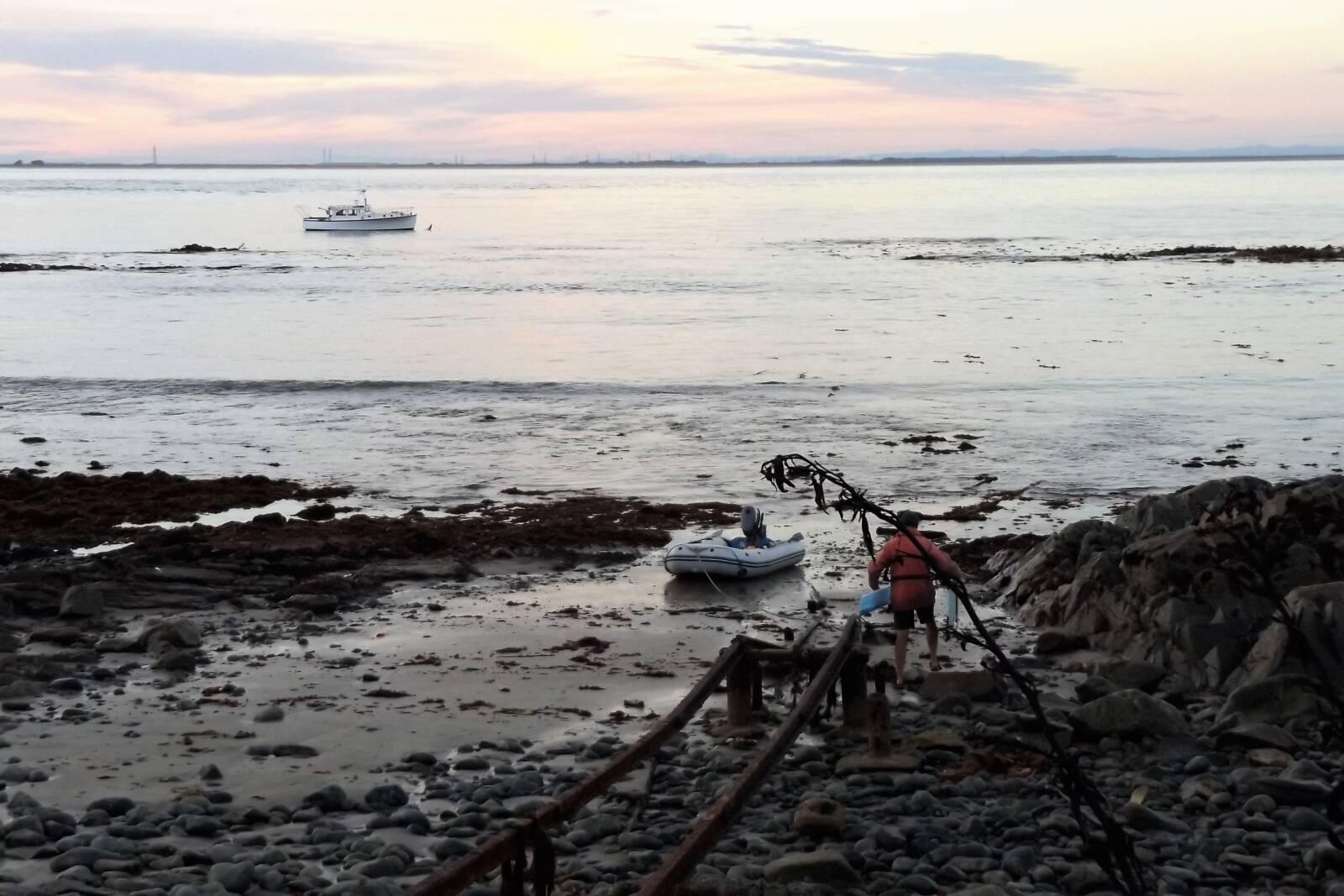 Getting the works back…..not always an easy process.  I have discovered that I can paint in the rain for half an hour before the paint slides off the canvas.  This is leaving Dog Island.

I have been very fortunate to combine my community arts work with painting on location and have met some amazing people who have shown me their local sights.
The Mataura River Project was a community arts project where I worked in 25 schools with thousands of children and 600 sculptures celebrating their connection to this mighty river were made and exhibited at Mandeville, Southland Museum and Art Gallery and Bowen House in Wellington.  The materials used were all being repurposed, recycled or their trip to the dump at least slowed down.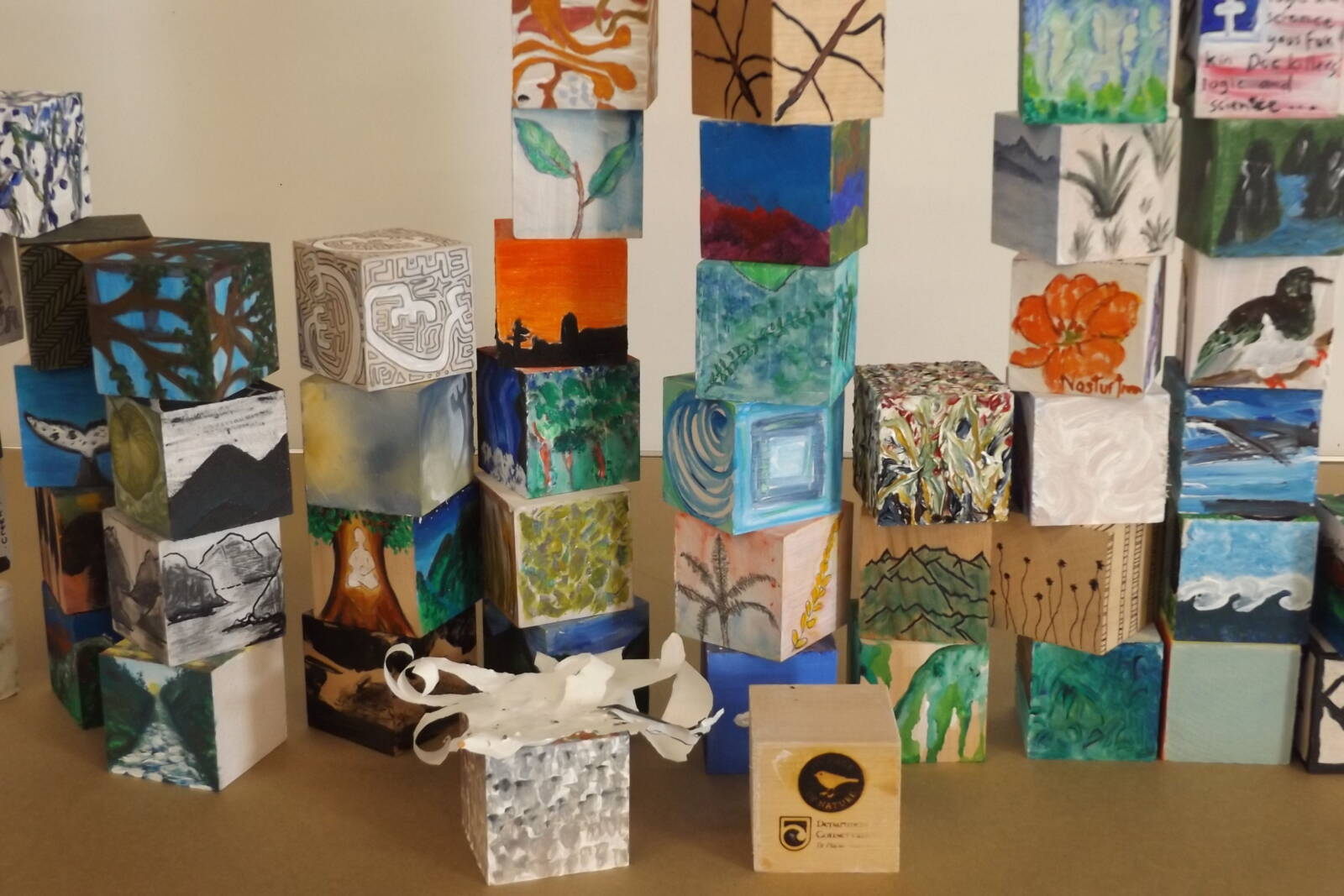 My Piece of Nature was another community art project I undertook with the Department of Conservation and the many groups, schools and individuals who participated in these workshops used art to express their relationship with nature.

The windswept trees and the Cosy Nook paintings will be exhibited in the 'Coastal Murihiku' exhibition at He Waka Tuia in Invercargill.  It opens on 28 May and runs until 8 July.  This runs concurrently with the community arts project "You Me and the Sea' which involves many young Southlanders creating work for this installation at He Waka Tuia.
I hope I have given you some insight into the realities of painting on location, Every one of my paintings are done on site.
I feel humbled and privileged to think people have bought my paintings and have them in their lounges – even if they don't match the curtains.